---
While we know much about Lok Sabha members, little is known in comparison to their counterparts in the Upper House of Parliament, the Rajya Sabha. Its members are indirectly elected, in a process that does not share the transparency of Lok Sabha elections. Interestingly, Rajya Sabha electoral data is not released by the Election Commission of India (ECI), which conducts their elections. 
A new dataset – the TCPD Rajya Sabha Dataset (TCPD-RSD) – sheds light on the members of the Upper House of India's Parliament since 1952. It contains a range of socio-demographic data on gender or familial background, as well as on the number of terms served, among other variables.
Most Rajya Sabha MPs are one-time members
As of 20th July 2022, there have been Rajya Sabha 3538 members, out of which 2412 have been unique individuals. 67% of them (1611) have served a unique term (or are currently serving their first term), while 23.5% (568) have served twice. Only 7% of all Rajya Sabha members have served three terms, and less than 3% of all members have served for more than three terms. Thus, only 10% of all Rajya Sabha members have had a long career in that chamber. Dr Mahendra Prasad, a Congressman from Bihar, is the Rajya Sabha's longest-serving member, clocking seven terms. Most long-serving Rajya Sabha members belong to Congress (37). BJP only counts five of them, and no other party counts more than three long-serving members. 
In terms of geography, Uttar Pradesh and Bihar have sent the largest numbers of Rajya Sabha members (508 and 296), which is of course consistent with these states' demography. The largest numbers of long-serving Rajya Sabha members come from Bihar and Maharashtra (9), followed by Uttar Pradesh and Karnataka (7). This means that durable representation of states by the same individuals in the Upper House is actually quite thin for most states.
If the share of seats held by national parties has declined over the years, it has never gone under the 50% bar. Like in the Lok Sabha, regional parties increased their presence in the Rajya Sabha in the late 1980s. Their representation afterwards stabilized. Given that most regional parties don't hold more than a handful of seats individually at any given point of time, the Rajya Sabha remains heavily skewed in favor of national parties. 
Until 1965, 80% or more of Rajya Sabha members belonged to Congress. The share of Congress members gradually decreased from the late 1960s to the late 1980s, and then dramatically declined from the 1990s onward. This, of course, reflects the Congress decline in state elections. The main benefactor of the Congress decline post-1991 is BJP, which gradually increases its presence. Since 2014, the BJP has made considerable progress in state elections. It currently holds 91 seats (38%), against 31 for Congress. Both parties still occupy a majority of seats (51%).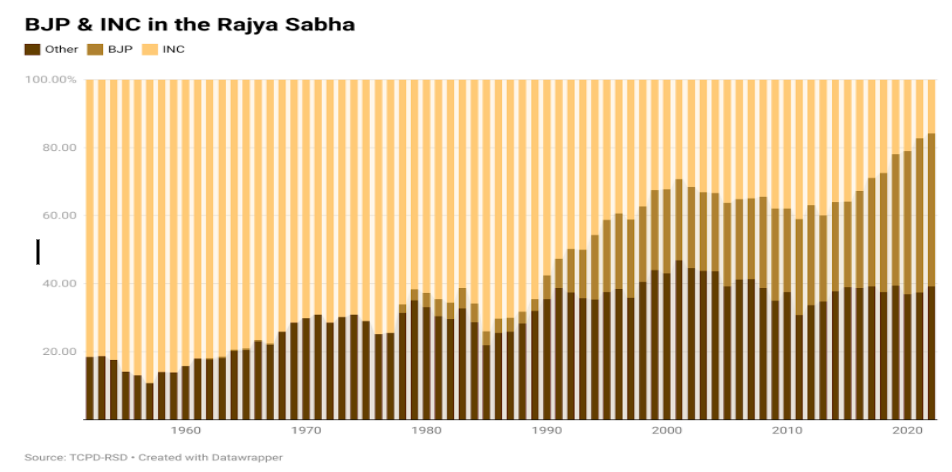 Some Rajya Sabha members are nominated by Presidential decree, rather than elected by parties. Since 1952, only 136 members have been nominated (less than 4%). Few independents also make it to the Upper House (113). These include figures from the industry like Dhirubai Ambani, K.K. Birla, Anu Aga or Rahul Bajaj, or prominent lawyers like Ram Jethlamani or Kapil Sibal (the latter was recently elected as an Independent, with the support from Samajwadi Party). 
In terms of educational achievements, most Rajya Sabha members are graduates or postgraduates. Only 121 of them declare to have stopped their studies before class 12. However, a large number of them failed to declare their education credentials, which skews the data.
Since 1962, 329 women have been elected in the Rajya Sabha (9.3%), or 230 unique individuals. Women currently make 13.5% of all members, which is a lower percentage than in the Lok Sabha (14.5%). Only 14 women were elected in 1952 (6%), all but three under Congress affiliation. There are currently 33 women sitting in the Rajya Sabha. Progress in this regard has been extremely slow and in see-saw.
Similarly, Muslims have also been under-represented in the Rajya Sabha. Since 1952, 295 Muslims have been elected (191 unique individuals), which is 8% of all members. 
The data is yet to be completed by other sources than the Rajya Sabha website and archives. What the data tells us at this point is that by and large, the profile of Rajya Sabha members does not differ much from that of their colleagues in the Lok Sabha. A more elitist chamber in the initial decades, the profiles of members of both Houses have somewhat converged through time. The under-representation of women and Muslims is all the more significant that parties have greater latitude to appoint whoever they want in this indirectly elected Chamber. This makes party biases even more striking than in other assemblies.
About the Authors
Gilles Verniers is Director, TCPD and Assistant Professor of Political Science, Ashoka University.
Ananay Agarwal is the Research lead at Trivedi Centre for Political Data, Ashoka University
Shivam Gangwani is a Research Engineer at Trivedi Centre for Political Data, Ashoka University
Disclaimer
This article belongs to the author(s) and is independent of the views of the Centre.