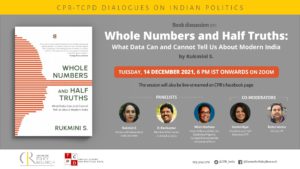 The Centre for Policy Research (CPR) and the Trivedi Centre for Political Data (TCPD), Ashoka University invite you to a virtual book discussion on: Whole Numbers and Half Truths: What Data Can and Cannot Tell Us About Modern India by Rukmini S.
Panelists: 
Rukmini S, Author and Independent Data Journalist.
Milan Vaishnav, Senior Fellow and Director, South Asia Program at Carnegie Endowment for International Peace.
D. Ravikumar, Indian Member of Parliament and General Secretary, Viduthalai Chiruthaigal Katchi.
Moderators:
Yamini Aiyar, President and Chief Executive, CPR
Rahul Verma, Fellow, CPR.
The session will be online via Zoom, please register here. You can also Watch the session live on the CPR Facebook page.
For any queries, please email communication@cprindia.org.
About the Author: 
Rukmini S. is an independent data journalist based in Chennai. She has specialised in data journalism since 2010, and was the first Data Editor of an Indian newsroom, initially at the Hindu and then at HuffPost India. She is a recipient of the Chameli Devi Jain Award for Outstanding Woman Mediaperson (Honourable Mention) in 2020 and the Likho Award for Excellence in Media in 2019.
About the Book:
In Whole Numbers and Half Truths, data-journalism pioneer Rukmini S. draws on nearly two decades of on-ground reporting experience to piece together a picture that looks nothing like the one you might expect. There is a mountain of data available on India, but it remains opaque, hard to access and harder yet to read, and it does not inform public conversation. Rukmini marshals this information—some of it never before reported—alongside probing interviews with experts and ordinary citizens, to see what the numbers can tell us about India. As she interrogates how data works, and how the push and pull of social and political forces affect it, she creates a blueprint to understand the changes of the last few years and the ones to come—a toolkit for India. This is a timely and wholly original intervention in the conversation on data, and with it, India.