---
The rulebook of Lok Sabha(upper house) defines "voicing the constituents' concerns" as the "primary parliamentary duty" of its members. As 543 Members of Parliament (MPs) acting as representatives of the 1.393 billion Indians, their performance and activities in the Lok Sabha is an evaluative litmus test for the level of engagement of MPs with their constituents. Are they in touch with their constituents? Do the raised issues reflect on matters concerning the nation? Or is their performance evolving in accordance with their personal benefit?
As the largest minority in India, Muslims, are under the microscope. The issues concerning their standard of living and civic rights are plenty. There is a stagnant rate of development and education, but a high rate of poverty. Their neighbourhoods are increasingly segregated and have an abysmally low rate of infrastructural development. The levels of violence – lynchings, harassment, and exclusion mar the community across the nation, and their identity continues to be forcibly caged. In such a continuum, what are their representatives – the aforementioned 543 MPs talking about in the parliament? The questions asked in the Parliament during the Congress-ruled government (UPA – 2009 to 2014) and the BJP-ruled government (2014 to 2019) have been analysed to answer this question.
A total of 206 questions containing the term "Muslim" were asked during the Question hour of the UPA government. The number sharply dropped to 135 questions during the BJP government, reflecting a declined interest in the overall well-being of the Muslim community. Here is a thematic breakdown of the questions.
Figure 1: Questions containing the term "Muslim" (2009-2019)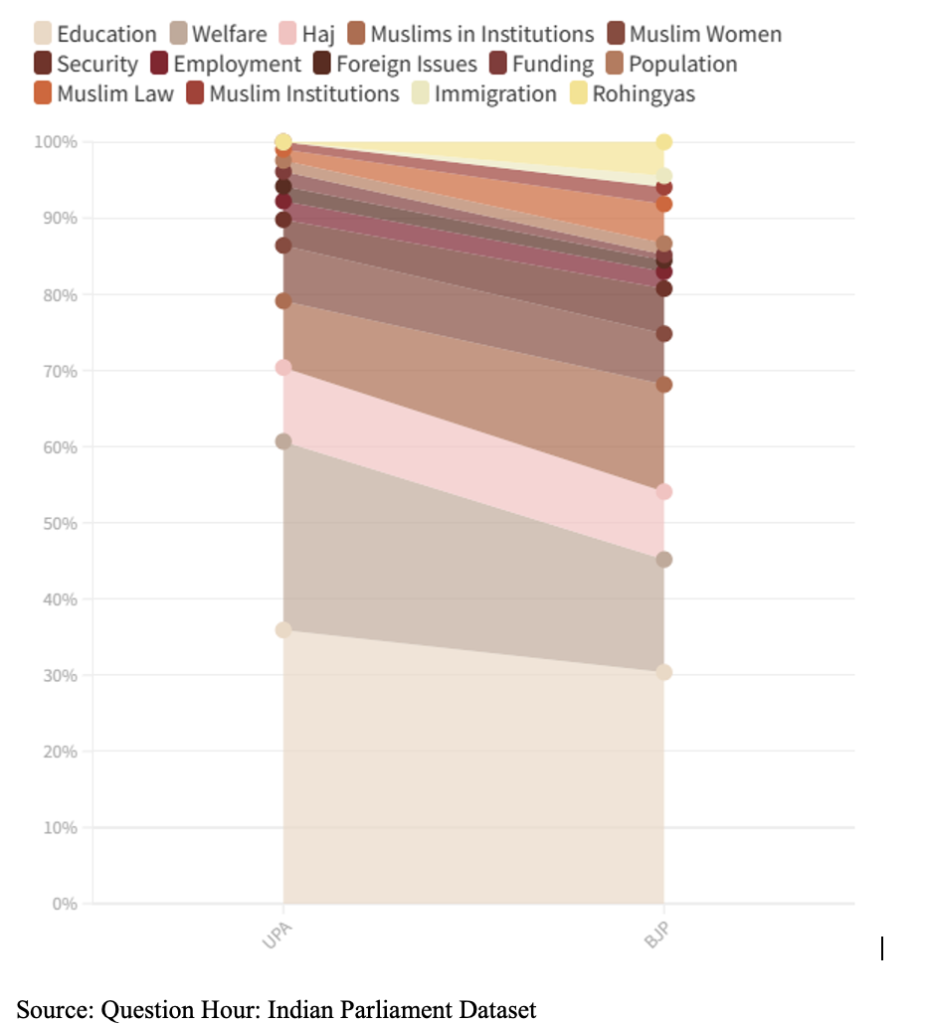 Source: Question Hour: Indian Parliament Dataset
Questions pertaining to education formed the bulk of questions during both UPA and BJP, followed by welfare and Haj. Topics least inquired about are Muslim Institutions, Muslim Law and Population during the UPA while Funding, Population and Foreign Issues were least inquired about during the BJP. However, the question hour of BJP referred to two topics not detected during the UPA: Immigration and Rohingyas. The presence of these topics touches the growing interest of the BJP in Rohingyan Muslims and the migration of Muslims to India; both of these narratives had proved beneficial to the BJP during elections. Other topics asked in the Parliament include Muslims in Institutions, Muslim women, Security and Employment.
Figure 2: Questions related to "Education" and "Muslim" (2009-2019)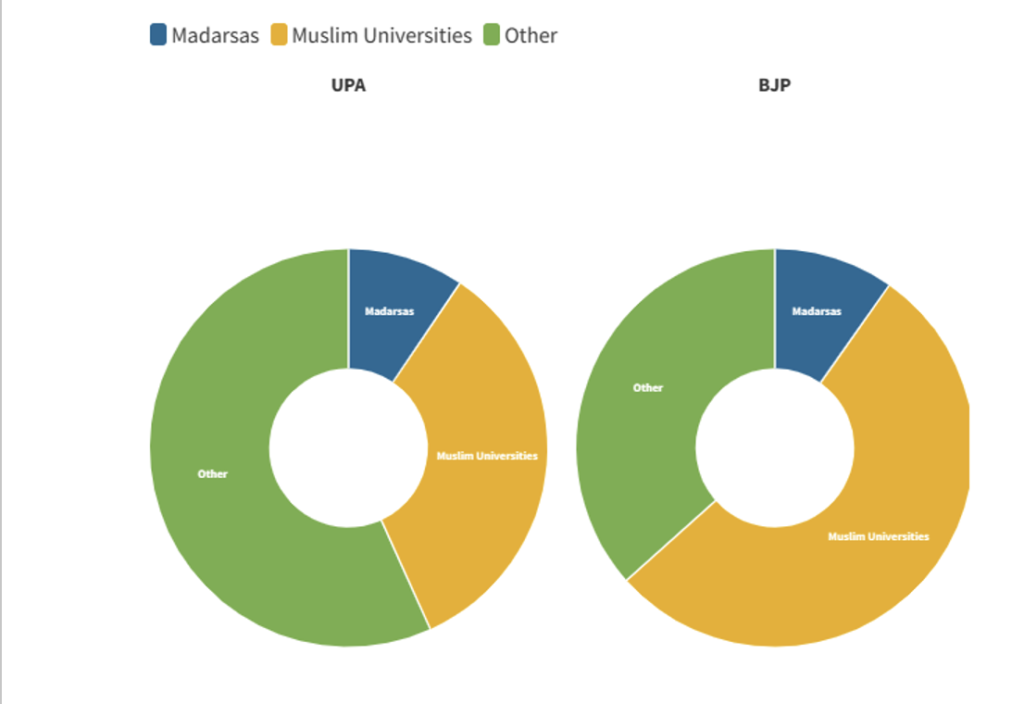 During both UPA and BJP, education remained the most inquired topic with regard to Muslims. However, questions regarding education halved during BJP. There was an equal amount of questions regarding Madarsas during UPA and BJP. The bulk of questions asked during BJP focused on inquiries about Muslim universities while most questions during Congress focused on evaluating the educational aspects of Muslims and their policies. In fact, the most inquired issue during BJP was "Muslim Universities" hence, demonstrating an interest bordering on obsession with Muslim institutions.
Figure 3: Questions related to "Security" and "Muslim" (2009-2019)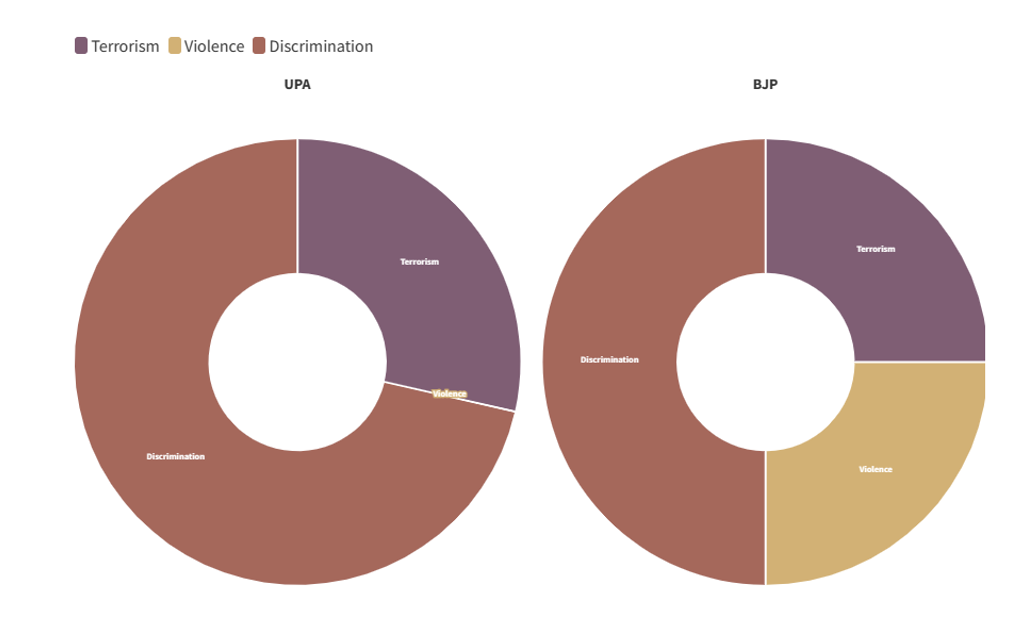 Despite the increasing vulnerability of Indian Muslims, security was a middle-range topic. Questions during UPA did not touch upon violence against Muslims but focused largely on "Security from Discrimination". Questions related to "Security from Violence" did see a remarkable increase during BJP, while questions related to "Security from discrimination" remained similar to UPA. Overall, the number of questions related to "Security" increased in BJP, reflecting an increased concern for the physical well-being of Muslims in India under the BJP's government. Questions, where Muslims were mentioned in the context of terrorism or terrorist organisation, were equal during both BJP and UPA.
Questions related to Muslim Law (Sharia) were asked both during UPA and BJP, with the questions doubling in number during BJP. "Triple talaq", "age of marriage" and "Muslim marriage" were centres of attention. An equal sprinkling of questions, both during BJP and UPA, also focused on Muslim institutions such as the Wakf board and their proceedings. Considerable interest in "Foreign Issues" – Muslim countries, and Hindus living in Muslim countries – was detected during UPA which nosedived to half in BJP.
During both UPA and BJP, questions related to Muslims in Government were concentrated on evaluating the numbers of Muslims in state institutions particularly in the context of Sachar Committee recommendations, with inquiries about the state's intentions of providing reservations or quotas for Muslims. However, questions about the presence and maintenance of religious practices and identity markers of Muslims in state institutions such as the army, police and jail emerged during the BJP, reflecting an increase in the keenness of evaluating the lives and experiences of Muslims inside the state structures with BJP at its helm. Inquiries about the evaluation and policies of employment/unemployment decreased to almost 50% during BJP.
Questions asked about Muslim Women during both UPA and BJP concentrated mostly on education, development and policy with a negligible interest in the security of Muslim women from violence and discrimination, with only one question asked (about the marriage of minor Muslim girls with Arab Sheikhs) during BJP and none during UPA.
The numbers reflect that there is a consistent line of questioning in Parliament during UPA and BJP with several tropes, such as Madarsas, Muslim Universities, Haj, Muslim Law, Foreign Issues, Terrorism, and Muslim women, forming the bulk of inquiries. More substantial issues, such as the question of reservation for Muslims, employment of Muslim youth, and constitutional measures against violence and discrimination, have taken a back seat in the Parliament. The later issues need to be developed substantially in policy and on the ground, then raised in parliament, for Muslims to gain equal footing with other communities.
About: Tazeen Junaid is currently working at TCPD as a Research Associate. She is a postgraduate student of Social Exclusion and Inclusive Study at Jamia Millia Islamia. She has a developing interest in identity formation, identity politics, and the nexus between identity and solidarity, with a concentrated focus on the Indian Muslim community.
References:
"TCPD-IPD: TCPD Indian Parliament Dataset (Question Hour) 1.0″ Bhogale, Saloni. Trivedi Centre for Political Data, Ashoka University, 2019.
"TCPD-IPD: TCPD Indian Parliament Codebook (Question Hour) 1.0." Bhogale, Saloni. Trivedi Centre for Political Data, Ashoka University, 2019.
Disclaimer
This article belongs to the author(s) and is independent of the views of the Centre.