---
Note: This article draws on the research on political families of the main parties which contested the Legislative Assembly Elections (2022) in the state of Goa – Aam Aadmi Party (AAP), Bharatiya Janata Party (BJP), Goa Forward Party (GFP), Indian National Congress (INC), Maharashtrawadi Gomantak Party (MGP), Nationalist Congress Party (NCP), Shiv Sena (SS), and All India Trinamool Congress (TMC).
Introduction
Dynasty politics, in which the candidates contesting an election belong to a political family, is one of the most prominent features of India's electoral politics. Similar to many Indian states, this phenomenon is observed in Goa, a state with 40 assembly constituencies.
This article uses the dataset on political families available with the Social Profile of the Indian National and Provincial Elected Representatives (SPINPER) Project. It analyzes the trends in party nominations and candidate contestations, particularly women candidates, in relation to political families during the Goa assembly elections of 2022.
Methodology and Background
For further clarification, the dataset used in the article defines "political family affiliation" as an active electoral candidate having family members in the state assembly, or the parliament, or the local bodies through inheritance (from father to child), or close familial bonds (brother, wife, daughter-in-law), or extended family ties (uncle, nephew, son-in-law). Furthermore, the dataset defines a candidate's "political antecedent" as their experience of holding a public office post, or their experience of running for elections at the national, state or local level.
Historically, and as attested by the Goa Assembly Elections in 2022, political families are a way of ensuring that a family retains some amount of political power: even if individual candidates lose out, the chances of an entire influential family losing all its seats are lower (Parabo, 2018). In some cases, this even means that members of the same family might contest under different party tickets.
For instance, former Chief Minister of Goa Churchill Alemao and his family have wielded considerable influence on the state's politics since the late 1980s, sustaining their reputation on their past achievements in state development (Shaikh, 2015). Alemao himself has been a part of the assembly on and off since 1990. His brother, Joaquim Alemao, was elected to the Goa Legislative Assembly for the first time in 2002. While he did not contest in 2022, Churchill Alemao contested elections along with his daughter Valanka Alemao and nephew Alemao Yuri (the son of Joaquim Alemao). While the father-daughter duo contested on the All India Trinamool Congress (TMC) party ticket, Yuri contested from the Indian National Congress (INC).
Another family of dynasty politics in Goa, the family of Pratapsingh Rane, has a royal heritage. Scholars such as Parabo argue that the massive popularity of Rane and his family can be traced to their royal background (Parabo, 2018). Moreover, Rane has been active in the state's politics ever since it was part of a single geopolitical unit with Daman and Diu. Except for his first election, he has contested as an INC candidate. This year, though Pratapsingh Rane did not contest elections, his son, Vishwajit Rane, and his daughter-in-law, Divya Rane, contested but as part of the Bharatiya Janata Party (BJP).
Findings and Analysis
Given the history of dynasty politics in Goa, let us now take a look at the percentage of contesting candidates with political family affiliations from the major parties in Goa Assembly Elections of 2022.
Figure 1: Political Family Affiliations of Candidates from Major Parties in 2022 Goa Legislative Assembly Elections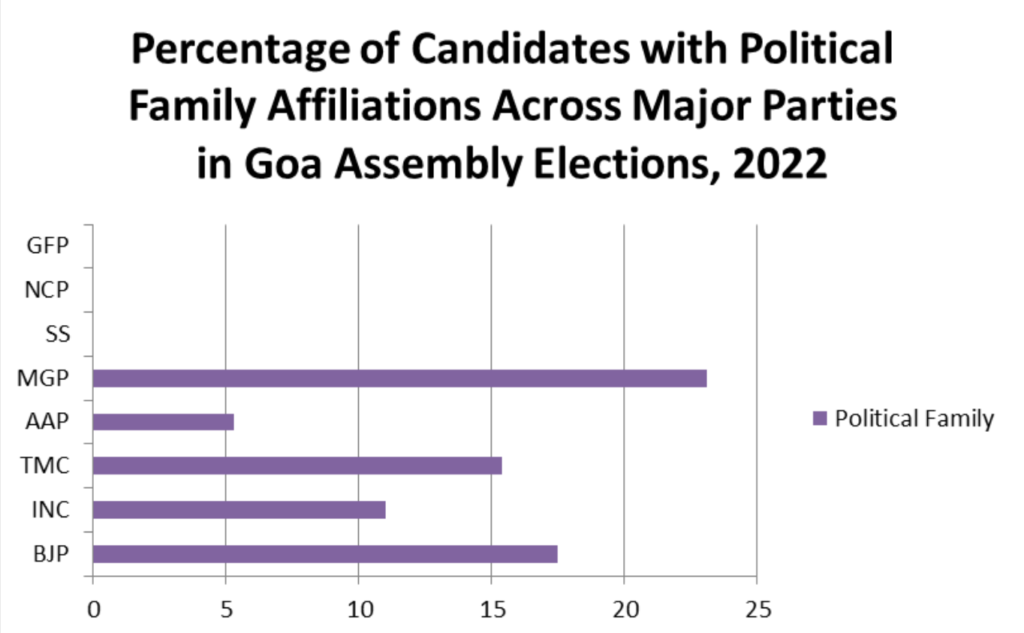 From the above graph, it can be observed that the Maharashtrawadi Gomantak Party (MGP) has the highest percentage of contesting candidates belonging to a political family among the major parties in Goa. Three out of its thirteen candidates, that is, 23.1% of its candidates came from political families. This is followed by the BJP at 17.5% (7 out of 40 candidates), and then TMC at 15.4% (4 out of 26 candidates). Aam Aadmi Party (AAP) had the lowest percentage amongst the parties that fielded political candidates at only 5.3% (2 out of 38 candidates). In the case of political families contesting from the BJP and MGP, all family members belonged to the same party, unlike the case of the Alemao family, in which different family members contested on different party tickets.
Of the women who contested from the major parties in Goa, 8 out of 13 women, that is, over 50% women came from families with political backgrounds.
Figure 2: Political Families and Antecedents of Women Candidates in 2022 Goa Legislative Assembly Elections

As shown in Figure 2, five women, that is,  38.5% of the women who came from political families also had prior experience of contesting elections, indicating that one's political family affiliations are not the end-all for making a name for oneself in the state politics of Goa. It also shows that political parties have nominated women with both political family affiliations and political antecedence. 
With the exception of Valanka Alemao, the daughter of Churchill Alemao, the dataset shows that all other women candidates with political families had husbands as their primary mode of relation. The dataset also reveals that all women candidates fielded by the BJP had political families, and only one of them appears to have had any previous political experience. Additionally, 23% of the women candidates fielded by all the major parties studied in this article have a 10th-grade pass certificate, 15% have a 12th-grade pass certificate, 46% have a graduate degree, and 15% have a post-graduate degree. The women candidates from AAP, MGP, and Shiv Sena (SS) all possessed a minimum of a graduate degree, whereas the BJP, INC, and TMC had fielded women candidates with a range of educational qualifications, from those who had passed the 10th grade, to post-graduate degree-holders.
Figure 3: Percentage of Electoral Wins amongst Candidates with Political Families in 2022 Goa Legislative Assembly Elections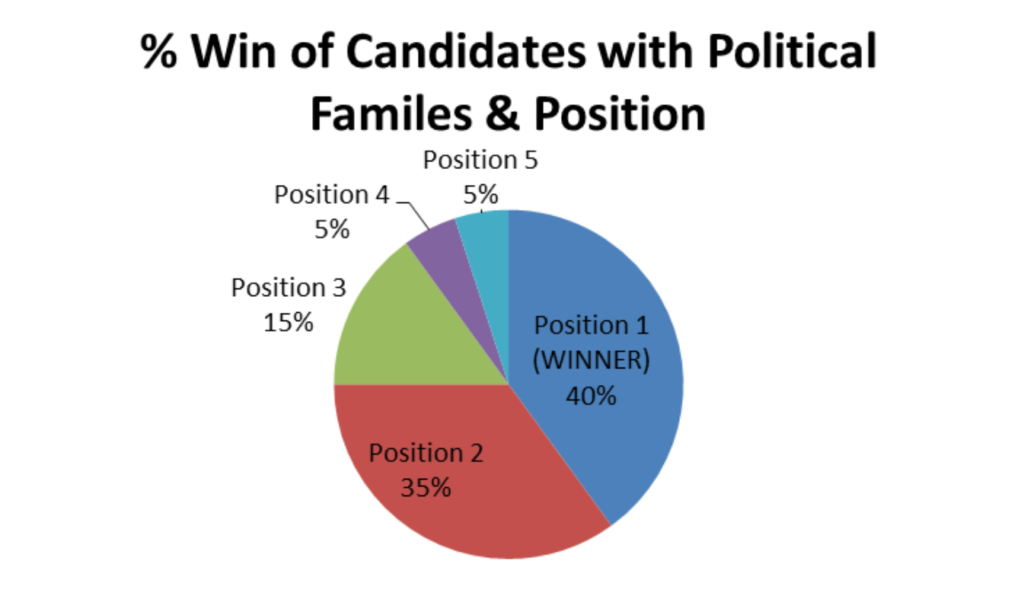 Overall, 40% of the candidates (both male and female) who came from political families managed to secure seats this election. However, only roughly one-fourth of those candidates were women. These elections fared particularly poorly for the renowned Alemao family, with only Alemao Yuri winning a seat for the Congress, and Churchill Alemao losing out. Whether this is an indication that family prestige is becoming less relevant in the state politics of Goa, only time will tell.
Conclusion
In conclusion, while Goa's electoral politics continues to witness the trend of wide participation of candidates from political families, it does not necessarily seem to be translating into wins for those candidates. Significantly, political family affiliations do not appear to be the only determinant of a woman candidate's entry into the state's politics, as many of them have carried out other political work before contesting elections. It will be interesting to look closely at the strategies that political parties adopt in the next elections, given that there are factors beyond familial relations that play a role in shaping electoral outcomes.
References
Parobo, P. D. (2018). The State, Networks and Family Raj in Goa. Studies in Indian Politics, 6(2), 168–179. https://doi.org/10.1177/2321023018797408.
Shaikh, Z. (2015, August 7). Churchill Alemao: From Daily Wager to chief minister to jail. The Indian Express. Retrieved June 2, 2022, from https://indianexpress.com/article/india/india-others/churchill-alemao-from-daily-wager-to-chief-minister-to-jail/.
The SPINPER Project – The Social Profile of the Indian National and Provincial Elected Representatives. http://liaspinper.com/. Forthcoming.
Acknowledgements
I thank Sai Vikas and Dipanita Malik from the Trivedi Centre for Political Data for their feedback and suggestions.
About the Author
Pulari Baskar is pursuing a double major in English and Political Science at Ashoka University, India. She has interned with TCPD for several projects in the past.